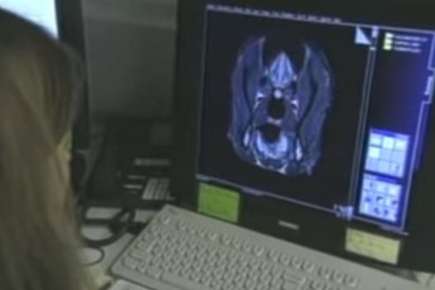 Advances in human medicine seem to occur on a daily basis as research and new technology bring new possibilities and hope of healing. And veterinary medicine and surgery continues to follow closely behind. Within the past twenty years, new technologies in diagnostics and surgical techniques have made it possible to greatly extend a family pet or animal athlete's life and competitive career. But while these new technologies bring hope, they often come with a high price. And some veterinarians and pet owners are concerned that "hi-tech" with its high cost has taken away from the "hi-touch" that has been a cornerstone of what many deem "the compassionate profession."
When veterinarians began practicing just twenty years ago, the scalpel was their main tool in the operating room. Today, laser technology can make it possible to reduce surgical pain and bleeding and shorten surgery time. Endoscopy can retrieve objects from a pet's gastrointestinal tract and bypass surgery all together. Arthroscopes and laparoscopes make joint and abdominal surgeries almost seem like minor procedures.


Advances in diagnostics such as ultrasound, echocardiography, and even MRI's are becoming more and more accessible in veterinary medicine and detect disease processes much earlier. This means that illnesses such as cancer that once carried a grim prognosis for pets are now considered treatable and often with a good outcome. Tendon and bone problems that once spelled the end of a career for equine and canine athletes can be diagnosed much sooner, often before the animal has any pain, so that treatment begins before devastating trauma occurs.
Laser surgery uses a very intense beam of highly focused light that can cut through tissue. It is especially useful for very small, precise cuts for biopsies, eye surgery, and tumor removal. Because the lasers automatically seals blood vessels and nerve endings as it cuts, there is much less bleeding and pain. Many pet owners don't mind the additional cost of laser procedures and ask that laser be used on their pets for more routine surgeries such as spays and neuters.
Ultrasound or "sonography" is another advancement that was once found only at university veterinary hospitals or referral practices. Now the technology is considered a mainstream tool in many veterinary practices. A device called a transducer sends high frequency sound waves into an animal's body and measures and interprets the patterns reflected. A still or video picture is created on a monitor. Ultrasound is painless and is very safe on such delicate tissues like the eye, spinal cord, and fetuses. A special type of ultrasound called echocardiography allows a veterinarian to precisely measure heart chambers and view heart valve function which means much better diagnosis for common pet heart problems and more precise treatment.
Radio waves are even helping veterinary dermatologists identify and treat skin conditions in pets. Mainstream surgical techniques with a scalpel can alter or damage delicate skin tissue, making diagnosis difficult.
For more information on these and other technology advancements contact us.